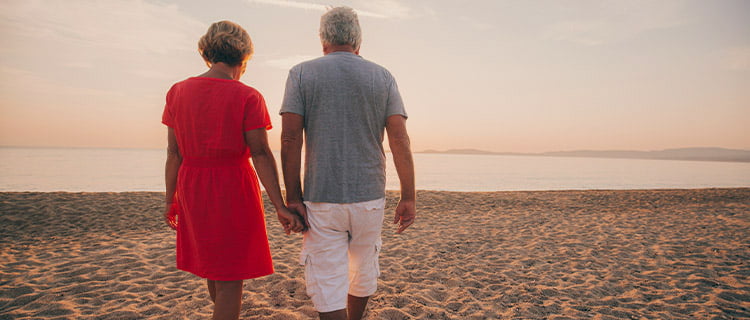 Retirement (non power of attorney) variable lifetime discount
Our Retirement mortgages are aimed to meet the needs of older borrowers who are either looking to release equity or borrow with no upper age limit. This mortgage has no set end date, so you can have the peace of mind that your mortgage term isn't coming to an end.
The mortgage will be repaid from the sale of your home when you (or, for joint mortgages, each of you) die or move into sheltered accommodation or residential care or live with a family member in another property. During the term of the mortgage the borrower(s) is responsible for meeting the monthly payments which will be on an interest only basis.
The minimum age for this product is 55, and you must have a source of income; typically from a pension, so that interest payments are affordable for the term of the mortgage which may be up to the end of your life.
The Society can lend a minimum of £50,000 and up to a maximum of £500,000. The amount you can borrow will depend upon your needs and your ability to repay the interest each month. Our Advisers will conduct an assessment of your income and expenditure so as to guide you on how much the Society may be able to lend to you.
The Society can lend up to 50% of your property's value, which will be confirmed by a professional property valuation.
The Society strongly recommends that anyone considering this product takes independent legal advice before entering into the mortgage contract. If they choose not to seek advice, they will be required to acknowledge that we have recommended it and that they are waiving their right to do so.
Initial
rate

i

Discount from SVR

i

Overall cost for
comparison

i

Max %
LTV

i

Payment
type

i

3.55%

1.35%

3.7% APRC

50%

Interest only

See example

Representative example: A mortgage of £100,000 taken out for a period of 17 years on an interest only basis.

Monthly instalments: £295.83 per month for 203 months.

Total amount payable: £161,207.49

Total amount of credit: £100,000

The total amount payable includes administration fee £125, valuation fee £255, product fee £599, completion fee £75 and closing fee £100.

The overall cost for comparison is 3.7% representative APRC.

This example relates to the Retirement mortgage (non power of attorney) variable lifetime discount product, is based on a typical mortgage and assumes that fees are not added to the mortgage. Please ask for a personalised illustration for your own particular requirements.